Mayo Water Reclamation Facility HDD Anne Arundel, MD
Risk /Reward
July, 2016
A new 28,000 ft force main now stretches from Anne Arundel County, Maryland to Annapolis thanks in part to the completion of a 4,200 ft river crossing by Carson Corporation. Horizontal Directional Drilling 24" HDPE over 4,000 ft presented risks that Carson Corporation studied prior to bidding this project. Carson Corporation determined that conditions under the South River pushed 24" HDPE DIPS DR-7 product pipe to its pullback load tolerance. Fortunately, Carson produced a clean 36" bore and the pullback forces never neared unsafe levels.
Installation Details and Project Summary
Owner: Anne Arundel County, MD
Consulting Engineer: GHD
Project: Mayo WRF ENR FM – South River
Location: Anne Arundel County, MD, Mayo Peninsula, South River
HDD Contractor: Carson Corporation, Lafayette, NJ
Pipe Supplier: Tricon
Pipe Size/Length: 4,200' of 24″ DR7 HDPE DIPS
Installation: Horizontal Directional Drill
Steering Contractor: Inrock
Carson Corporation Contact:
Bob Carson-VP of Business Development (201) 230-4686, bcarson@carsoncorporation.net
Carson Corporation overcame many obstacles during this installation, some of which include:
-Working with 6 regulatory agencies
-Residential noise restrictions
-Limited time frame because shellfish and fish spawning patterns
-Pushing pullback capacity of HDPE
-Maintaining hole while drilling through unstable soils
Overcoming these obstacles and others led to a successful completion of this project. The reward for Carson Corporation is installing a critical piece of a big project and "doing it right" despite many challenges.
Please see attachments for additional articles relating to this important project.
Shelter Island HDD Improves Dredging Right of Way
Thirteen.
That's approximately how many years South Ferry's Cliff Clark has been warning New York State Department of Environmental Conservation officials that if South Ferry landings didn't get dredged, there would come a day when boats would be stranded, unable to deliver vehicles and foot passengers to either Shelter Island or North Haven.Storms like 2012's Sandy have resulted in shoaling that already has boats sometimes dragging bottom when winds from the west pick up, Mr. Clark said.
But he's finally looking ahead to the dredging project  in November.
To prepare for that, Verizon and Cablevision power lines have to moved to ensure  they won't be cut when the dredging occurs. That's why traffic from both Shelter Island and North Haven has backed up on occasion and routing around construction equipment has been ongoing the past few weeks.
Workers from Danella Construction and Carson Corporation have been on the job with South Ferry personnel carrying out the intial stages of the the project.
The employees have been working 12-hour days, foul and fierce weather notwithstanding.
"This is what they do," Danella Construction project manager Joe Gogno said. "These guys are a different breed."
The process that will likely last another two weeks has involved creating a channel across 2,280 feet of water 6 feet under the floor of Shelter Island Sound.
Islanders may be somewhat familiar with the process that was similar, if not as long, as the ill-fated effort by LIPA contractor Bortech made last summer  to boar through soil and rock to create a tunnel for piping to  house fiber optic cables for the utilities.
To achieve this end, the workers have had to combine their various expert abilities with one another.
They've encountered some hard spots tunneling through to the Shelter Island side, according to engineer Robby Smith. But they came within less than two feet of their target to bring the drill ashore on Shelter Island just along the grassy area in front of the office.
He and Michael Gill work side by side hunched over computers in a central command trailer they call a "steering cabinet." Mr. Gill  determines the right coordinates in an exacting process so that Mr. Smith can then gently move levers that guide the actual drill with a 10-foot head through from North Haven to Shelter Island. The cost of the steering cabinet from which the drilling is directed costs $250,000, according to Mr. Gogno.
Mr. Gill spent eight months in training learning his job. He travels the world on various projects, including Europe, Australia and throughout the United States. He recalled one project where he had to route the drill with a high powered gas line on one side and a major water line on the other with only two feet of space in between. A minor mistake on his end in plotting the route could have meant a major accident, but success was with him.
Still, he said, he's still learning and every day, every project is a new experience.
Ask any of the workers whose job is the toughest and the response tends to be the same — the flagmen who have to guide traffic, standing on their feet for 12 hours at a stretch with no relief from bad weather.
Winds, mud splashing and other elements are brutal, Mr. Smith said.
On Tuesday, the men from the various crews paused for lunch catered by Vue and provided by South Ferry management.
Mr. Clark, in a short prayer he offered before the men chowed down on sandwiches, salads and cookies, thanked them for all of their cooperation with one another and with his staff. He even praising the crews' families for raising such hard working and dedicated young men who could carry out the project with skill and professionalism.
"My crew has been thrilled" working with the other crews to help keep traffic flowing on and off South Ferry boats with as little disruption as possible, Mr. Clark said.
New 700-megawatt Power Generating Station in New Jersey Relied on HDD to Get the Conduit Installed
By Sharon M. Bueno — Dec 15, 2014
A new, 700-megawatt, gas-fired power generating station is under construction in Woodbridge, N.J., that, when completed, will transmit power generated by this new facility to an existing substation three miles away. Horizontal directional drilling (HDD) was successfully used to install more than 11,000 ft of high-voltage transmission lines across two wetland areas and the Raritan River.
Carson Corp., based in Lafayette Township, N.J., was the HDD contractor for the design-build project. In all, Carson drilled six directional bores in three locations for the 11,000 ft of 30-in. Fusible PVC (fPVC) casing. Each of the three locations necessitated parallel crossings of the casing pipe, which housed three 230 kV electrical cables, each producing enough electricity to power more than 700,000 homes.
Project general contractor was EJ Electric/Ferreira Construction and the owner was Competitive Power Ventures. The power generating station — known as the Woodbridge Energy Center (WEC) — is being constructed at a former chemical plant and will be a state-of-the-art energy center upon completion. According to project information, the WEC will help the state of New Jersey meet its energy demand, while also improving the state's electric system's reliability and environmental impact.
According to Carson Corp. vice president Scott Murray, P.E., each 30-in. fPVC casing housed four 8-in. fPVC conduits to carry three 230-kV cables (one of which is a spare conduit for possible future use), two 2-in. HDPE conduits for ground and fiber-optic lines and a 3-in. HDPE grout delivery tube. Casing spacers were installed every 5 ft in the 30-in. fPVC casing pipe. The fPVC casing was supplied by Underground Solutions and Lee Supply supplied the 2-in. and 3-in. HDPE conduits.
The three locations where the six drills took place (parallel bores at each location) were: 1,600 ft, 2,400 ft and 1,500 ft. Crews used three American Augers drills for the project: DD1100 (1.1 million lbs), DD440 (440,000 lbs) and DD140 (140,000 lbs). Drilling took place simultaneously at times, taking advantage of the parallel installation. Crews also used two Tulsa Rig Iron 750 Recyclers, as well as INROCK and SlimDril International steering hands.
Use of traditional installation methods via overhead towers and direct burial were used for most of the installation. "About 1mile of the entire project needed to be installed using the trenchless technology of HDD because the terrain to be traversed was either wetlands or the river," Murray explains. "When they got to a point where they had wetlands and they couldn't get through the swamp, they had to bring the wires down from the pole and cross under them to reach the substation."
The project started in March 2014 and completed in July. However, before drilling could commenced, the Carson crew constructed a mile of timber mats in the wetland/marsh areas in order to use the heavy drilling equipment.
Why Fusible PVC?
When designing the project, Carson Corp. considered a range of casing and conduit pipe materials, including steel and HDPE and fPVC. Murray explains that Carson looked at the design aspects of the project in making its decision to go with fPVC. Pulling strength of the pipe, as well as the internal and external diameters of the pipe, was critical.
"Two drills were over 2,400 ft," Murray says. "If I was pulling something that long using HDPE, I would need a heavier, thicker wall. When you have a thicker wall, that decreases the size of the inside diameter of the pipe. The whole premise of the project was to get a 7 ½ in. inside diameter space filled with conduit. If I used [a pipe] with a heavier wall thickness, the borehole just got larger and larger.
HDD"The fPVC had a thinner wall thickness that allowed me to create a bigger bundle that had a smaller outside diameter borehole, he adds. "[The fPVC] also had a greater pulling strength, capable of pulling it further."
Murray further explains that the conduit pipe needed to be large enough inside diameter to allow the proper clearance for the power cables while having a small enough outside diameter to fit within the 30-in. casing. Also, the 8-in. conduit pipe needed sufficient hoop strength to withstand external loading placed on the pipe during the grouting process.
Using the non-metallic fPVC casing pipe also maximized the amount of electrical current a conductor can carry before sustaining progressive deterioration. The fPVC pipe was connected to the open-cut conduit with standard power couplings and fittings.
The ground conditions were of mixed soils, including sand, clay and rock, the latter Carson wasn't expecting. Murray explains that the final two boreholes proved to be a bit of challenge, given the narrow right of way that the drilling crew had to work in.
Parallel"With the last two drills, we had a very tight tolerance in the right of way," he says. "With the first four drills, there was a 40-ft right of way but the last two only had a 22-ft right of way. The electrical manufacturer required that the drills be 19 ft apart to prevent the [lines] coming too close together and heating up. But the right of way didn't allow for any margin of error. We had to drill both drills perfectly along the right of way."
How did the crews handle these two tricky drills? "Very cautiously and carefully," Murray says. "When we started to deviate, we made sure we corrected it immediately. There was no room for error."
Once the casing pipe was in place, the bundle was installed, which was then grouted into place using specially designed thermal grout (Constellation Group), piped in through the 3-in. HDPE grout delivery tubes.
Murray says this is type of project is what Carson does best: handling more than just the drilling.
"We did everything," he says. "We weren't just the drillers. We assembled and installed the bundle, grouted the conduits in place, pressure tested it and provided a pull string inside."
Sharon M. Bueno is managing editor of Trenchless Technology.
Woodbridge Energy Goes Underground With Thermal Grout
By Guy Dickes, Constellation Group | December 2014, Vol. 69, No. 12
Competitive Power Ventures is currently building a new dual energy (primary- natural gas; secondary- ultra-low sulfur diesel) high-efficiency generating plant in north central New Jersey.
Called Woodbridge Energy Center, it will produce 700 megawatts of electricity for the New Jersey metropolitan area. It will generate enough electricity to power more than 600,000 homes, helping the area meet its growing demand for energy while also increasing the reliability of the state's electrical grid.
Situated in a Brownfields Development Area in the Woodbridge New Jersey area, the power plant needs to tie into the state's electrical grid. Situated roughly three miles from Jersey Central Power and Light's Raritan Substation, overhead transmission lines are being built above ground for roughly half that distance, conventional open cut for ½ mile and trenchless for a little over one mile.
Undergrounding for these segments of the transmission lines were necessitated by wetland restrictions to construction. Other permitting issues for overhead towers and wires across the river prevented their installation. Furthermore, towers would have obstructed the view in a great natural habitat of the state.
Undergrounding of electrical cable is more expensive than overhead lines so it is imperative to maximize electrical efficiency (ampacity) for the underground portion of transmission lines. Best practices include the use of plastic casing and conduit in place of steel for elimination of stray currents and the use of an engineered thermal grout for the dissipation of thermal loading.
Grout requirement
Thermal grout is necessary to remove heat from the conduit bundle and transfer to the ground. Overhead cables are naturally cooled by the atmosphere. Underground these wires would be surrounded by trapped air in the casing- an excellent insulator. Thermal grout allows the heat to be transferred to the surrounding soil.
The underground portion of the transmission lines (230kV) starts about ½ mile behind the New Jersey Convention Center in Edison, NJ, and crosses roughly 1.5 miles of wetlands and the Raritan River. Transmission line work was awarded to Ferriera Construction/EJ Electric and the horizontal directional drilling (HDD) work was subcontracted to Carson Corporation.
Carson Corporation started drilling in late spring 2014 with a tight construction schedule. It was necessary to complete four pairs of two parallel HDD bores totaling over 11,000 feet by the end of summer. Further complicating this was working under/around/over other contractors to complete their portion of the work. This work was all Design-Build for the Owners- Competitive Power Ventures (CPV).
The first two parallel bores reached 1,600 feet across environmentally sensitive wetlands to a point where Ferriera/EJ continued with a ½-mile run of open-cut trenching. Open-cut conduits were covered by thermal concrete and specialized thermal sand. At this point, twin HDD bores continued 2,400 feet under the Raritan River with very tight right-of-way restrictions. Parallel bores had be 20-feet apart. Further complicating the construction, electric phases had to be kept aligned between bores. Across the river, the third set of parallel bores intersected with the second bores for another 1,500 feet. Right-of-way and permitting required this jog in the transmission lines.
Due to fused PVC's greater strength Carson Corporation selected it over HDPE for the HDD bored casing and the bundled conduit slipped inside. This allowed reduced wall thickness and weight of both the casing and the conduit which, in turn, lowered risk and cost by requiring a smaller bore than HDPE. The HDD bores were cased with Underground Solutions Inc. fusible PVC 30 inch pipe and the internal bundles were comprised of 8-inch fusible PVC (for cable) and 2-inch HDPE (for fiber optic lines). Underground Devices Inc. (UDI) supplied the spacers for the project. In order to expedite the project and maximize productivity, the primary HDD rigs were not used to pull bundles. A Vermeer rig was used to pull all the bundles, proving that UGSI/UDI system works well.
Bundle
Noteworthy is the bundle design. By using the 30-inch and 8-inch fusible PVC, while this allowed for a smaller bore than HDPE, it also reduced the internal space and provided for only two, 3-inch thermal grout pipes from either side of the bore. There was no room for error. Strategically placed, sacrificial grout pipes can only be used once before becoming filled with grout. In the typical HDD/thermal grout scenario, the grout is pumped to the lowest part of the bore (center) and allowed to fill the bore in both directions. Secondary grout pipes are located much further away, up the bore profile. In the event grouting must be halted, then by knowing the locations of these pipes grouting can be controlled.
Constellation Group LLC was brought on board early in the project and worked with Carson to develop a thermal grout that could be easily pumped the distances required and then flow through the tightly spaced conduit bundle. Numerous mix designs were formulated and tested. By utilizing a locally sourced supply of very fine natural sand, an economical grout was formulated. As should be standard on all thermal grouting projects, samples were sent to Geotherm Inc. for thermal resistivity testing. Final result ranged from 49 degrees C-cm/W for wet samples to 95 degrees C-cm/W at zero percent moisture. These results exceeded the requirements of the project.
Carson self-performed the grouting operations with Constellation Group. The use of very fine sand dictated a hybrid batching plan. The selected ready mix supplier (Clayton Companies) could not handle the sand at their plant. It was decided that Clayton would supply, premix the cement, water and the first two admixtures. Carson's crew then introduced the sand into the trucks onsite and thereafter the third chemical admixture. Within the first two truck loads, the operation looked like a finely tuned ballet. Each truck required five 3,000-pound supersacks of sand. Over 1,680,000 pounds of very fine sand was handled.
Supersacks of sand took less than 90 seconds to lift, unload and reload. An admixture pump supplied by Sika Corporation took less than 2 minutes to add the Sika stabilizer. Truck drivers were then instructed to add a specific amount of additional water. This was required for three reasons: to avoid splashing as the trucks went down the road; to wash all the sand and admixture into the barrel; and to maintain the ability to monitor and adjust the final mix.
QC
Quality control at this point was to check the truck tickets and unit weight of the thermal grout. The unit weight is checked against the lowest allowable weight as tested by Geotherm. If the unit weight (also called slurry density or specific gravity) is above the minimums, it will produce thermal grout meeting or exceeding the performance of the test samples. As a general finding, nearly all field tests showed weights 1 to 2 percent above minimums. Although not a requirement, efflux (flow) using a standard ASTM C-939 flow cone showed results less than 20 seconds which is a very fluid grout. This work took place during the summer. It was decided to substitute ice for some water during the hottest days to lower the initial temperature of the grout. Even on the hottest days, initial temperature of the thermal grout did not exceed 90 degrees F as tested with a laser thermometer.
Thermal grouting proceeded in an orderly fashion. On the first bore, it was necessary to utilize all three grout pipes (two from the primary side; one from the far side) because of delays in delivery. This bore took two days to complete. Thereafter, grouting was done in one day per bore, utilizing the primary (centrally located) grout pipe and the secondary (near side short pipe). Operational parameters determined it was necessary to leave a short section (less than 50 to 75-feet) ungrouted from several bores so the casings and conduits could be excavated, lowered and tied into other underground structures.
Roughly 1,260 cubic yards of grout was pumped over seven non-consecutive days. Scheduling included working around deliveries of cable spools (up to 100,000 pounds) and ready mix trucks delivering fluidized thermal backfill for the open-cut portion of the work.
Several records were believed to have been set on this project:
• Thermal Grout: largest thermal grouting project: 1260 cubic yards on one project;\
• Fusible PVC: largest fusible PVC conduit project;
• Longest HDD thermal grout project, total footage 11,000 feet
FOR MORE INFORMATION:
Carson Corporation, (201) 230-4686, www.carsoncorporation.net
Underground Solutions, (858) 679-9551, www.undergroundsolutions.com
Underground Devices Inc., (847) 205-9000, www.udevices.com
Vermeer Corp., (888) 837-6337, www.vermeer.com
Constellation Group LLC, (410) 484 0672; www.cgllc.us
Unitil Gas – Little Bay Crossing, New Hampshire Video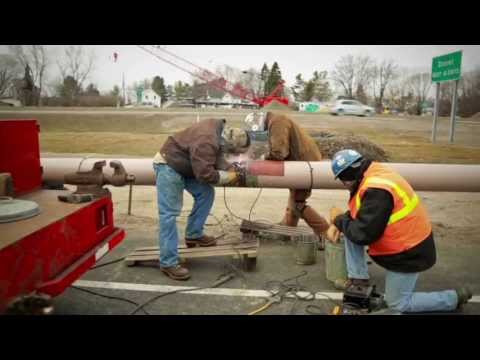 Governor's Island – Video
Carson Corporation is a leader in Horizontal Directional Drilling. This installment of Carson's "Latest Dirt" features drilling beneath the Buttermilk Channel to bring potable water to Governors Island. Mayor Bloomberg plans to make the island one of the premier tourist destinations in the New York Harbor.
An Educated Approach for Berkshire Gas
160 year old Berkshire Gas Company provides gas for 38,000 customers while maintaining 1500 miles of natural gas mains and services. To service nearby Amherst College and UMass, BGC required that a 6″ main be supplemented with a 12″ main under the Connecticut River in Hatfield, Massachusetts. Many river crossings are similar in that cobble turns to saturated sand and back to cobble again. Throw in some unknown formations that were undetected by pre drill geo-technical investigations and a straight forward project could have turned ugly. These previously unknown conditions gave way to technology and experience. Like a collegiate handling a heavy course load Carson Corporation's DD140 crew came up with the right answer.
Installation Details and Project Summary
Owner: Berkshire Gas Company, Pittsfield, Ma
Project: Connecticut River Crossing
Location: Hadley/Hatfield, Ma
Pipeline Contractor: J.S. Rae Construction, Shelburne, Ma
HDD Contractor: Carson Corporation, Lafayette, NJ
Pipe Supplier: By Owner
Pipe Size/Length: 1,680 lf Connecticut River Crossing-12" Coated Steel-Induron Warrior 100 Coating-Designed for HDD
Installation: Horizontal Directional Drill
Steering Contractor: Horizontal Technologies, Houston, TX
David M. Grande- Berkshire Gas Company – Director – Gas Engineering and System Operations stated:
"The Connecticut River Crossing for Berkshire Gas Company located in Western Massachusetts presented the Company with both timing and permitting challenges associated with the proposed construction using HDD technology. Carson Corporation met all of those challenges by performing the project on time and meeting all of the environmental requirements. We were very pleased with the expertise and professionalism of Carson Corporation."
Carson Corporation Contact Information:
Bob Carson-VP of Business Development
(201) 230-4686,
bcarson@carsoncorporation.net
Horizontal Directional Drill Video
Capabilities Overview Video
Land, Ho! Bringing Potable Water to Governors Island
Carson Corporation's latest project, Governors Island Potable Water Source and Distribution Phase I is recognized in Local Blog:
Blog by: govislandblog.com / J. Hand
At approximately 11:00AM last Wednesday, our drilling contractor broke ground on Governors Island… except they did it from the ground up!
Horizontal Directional Drill.
Is that a submarine poking out in front of the old commissary? No, it's a horizontal directional drill seeing daylight for the first time in weeks after burrowing underneath the Harbor, all the way from Red Hook, Brooklyn.
This "peek-a-boo" moment marks an exciting milestone in our effort to restore potable water to Governors Island. By the end of this year, over 2300 linear feet of new water pipe will be installed beneath the Buttermilk Channel. In 2014, our dedicated crew will continue to expand the potable water network throughout the north portion of the Island, as well as to the newly constructed park and public space. There's more work to be done, but we are on schedule to ensure that potable water is fully restored by the end of next year. Future tenants and visitors can look forward to taking a sip of delicious Brooklyn water!