Unitil Gas – Little Bay Crossing, New Hampshire Video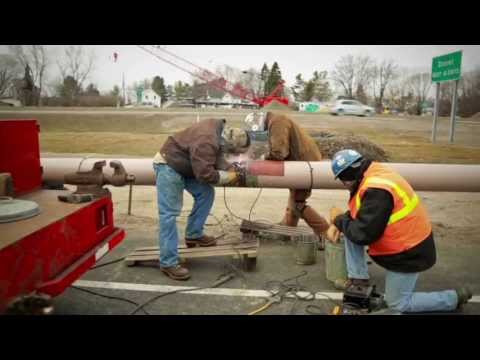 Governor's Island – Video
Carson Corporation is a leader in Horizontal Directional Drilling. This installment of Carson's "Latest Dirt" features drilling beneath the Buttermilk Channel to bring potable water to Governors Island. Mayor Bloomberg plans to make the island one of the premier tourist destinations in the New York Harbor.
An Educated Approach for Berkshire Gas
160 year old Berkshire Gas Company provides gas for 38,000 customers while maintaining 1500 miles of natural gas mains and services. To service nearby Amherst College and UMass, BGC required that a 6″ main be supplemented with a 12″ main under the Connecticut River in Hatfield, Massachusetts. Many river crossings are similar in that cobble turns to saturated sand and back to cobble again. Throw in some unknown formations that were undetected by pre drill geo-technical investigations and a straight forward project could have turned ugly. These previously unknown conditions gave way to technology and experience. Like a collegiate handling a heavy course load Carson Corporation's DD140 crew came up with the right answer.
Installation Details and Project Summary
Owner: Berkshire Gas Company, Pittsfield, Ma
Project: Connecticut River Crossing
Location: Hadley/Hatfield, Ma
Pipeline Contractor: J.S. Rae Construction, Shelburne, Ma
HDD Contractor: Carson Corporation, Lafayette, NJ
Pipe Supplier: By Owner
Pipe Size/Length: 1,680 lf Connecticut River Crossing-12" Coated Steel-Induron Warrior 100 Coating-Designed for HDD
Installation: Horizontal Directional Drill
Steering Contractor: Horizontal Technologies, Houston, TX
David M. Grande- Berkshire Gas Company – Director – Gas Engineering and System Operations stated:
"The Connecticut River Crossing for Berkshire Gas Company located in Western Massachusetts presented the Company with both timing and permitting challenges associated with the proposed construction using HDD technology. Carson Corporation met all of those challenges by performing the project on time and meeting all of the environmental requirements. We were very pleased with the expertise and professionalism of Carson Corporation."
Carson Corporation Contact Information:
Bob Carson-VP of Business Development
(201) 230-4686,
bcarson@carsoncorporation.net
Horizontal Directional Drill Video
Capabilities Overview Video